I attended the LITA National Forum 2010 this past weekend.
I presented with Andy Ingham of UNC Chapel Hill on Shibboleth and InCommon.
As a whole, the forum had a very relevant mix of topics for Johns Hopkins libraries.
The most important and relevant topics I will report on are mobile web design, web site redesign, OCLC's WMS, promoting open source software through the cloud, and IT organization in libraries.
I'll report on each of these in some detail, but also provide a brief synopsis below.
OCLC's WMS (Web-Scale Management System) exists and is in use by a handful of early adopters. Feedback was very positive, especially in terms of cost savings due to shared data. This system is here and now and worthy of evaluation.
There were a few presentations on mobile design. Diane Butler from Rice University provided some very detailed analysis, based on actual usage and on survey, as to what are the most used, needed, and desired mobile functions for libraries.
Justin Blum, from University of Nevada, Reno, presented on web redesign. His presentation focused on what made for a successful approach and process to a web redesign in the libraries.
Michael Klein presented on promoting open source projects through the cloud. OSU is spinning up demonstration/evaluation versions of Library a la Carte through cloud service providers. This promotes adoption of the open source software. Could this work for the Blacklight community? Maybe.
Joan Smith, from Emory University, discussed IT reorganization in brief, and talked in more detail about their Agile methodology and project management.
On the Go: What your users really want
Diane Butler – Rice University
Diane presented on Rice's mobile web design.

They're a pretty small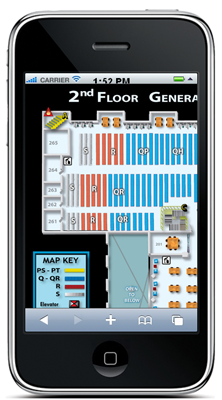 university.

Soup to nuts, they did this in 4 months.

Their mobile web site is m.library.rice.edu.

They used iWebkit.

One feature in particular that I think they did a good job with is floor plans.

They are attractive and useful in a mobile context.

They don't have GPS, but that is ok.


In their process, they very deliberately started tracking usage, as well as planned surveys.

These assessment techniques allowed them to analyze what was the most used, most needed and most desired functionality for their users.

The most desirable functionality includes search, floorplans, hours, lab availability, GPS navigation, and reserving group study rooms.
Things that were not very well received were podcasts and links to non-mobile sites. Users also indicated that they did not want to conduct research on their cell phones.
Things that were desired and not available include GPS navigation, lab availability, and the ability to reserve group study rooms.
Engaging Users and Easing Them Into Your Task-Oriented Library Website Redesign
Justin Blum – University of Nevada, Reno
Justin discussed the web redesign process at University of Nevada, Reno. Justin is the web developer responsible for their web site redesign. He gave relevant advice.
Web redesign projects need to have a clear argument for replacing existing web site. The project may be put in doubt, and may need to revisit this argument to support the new design.
Web redesign should start with a vision. Design by committee will kill or severely impede the process. Web designer needs to have a plan and vision. Web designer should share initially with a few people, generate buy in and gather feedback. When going to beta, don't design by committee, embody the committee.
In all phases, consider the feedback loop. Look at web design as a conversation.
In terms of content, 80% of people on their site were doing research. In a redesign, don't marginalize the catalog, 30% of the people using their site use the catalog.
Promoting Open Source Software through Cloud Deployment
Michael Klein – Oregon State University
This was an interesting presentation on promoting open source software through cloud deployment. OSU has developed an open source software, Library a la Carte. It has been downloaded a bunch of times, but only resulted in a few installations in 3 years. This is because there are barriers to evaluating open source software if there is a lot of up front work that needs to be done just to get the thing to a state where it turns on.
So, they are using cloud service providers to deploy very easily instances of the software for people to evaluate. They provide a handful of service providers for people to use. Great idea. Other open source projects, like Blacklight, should take note.
Cloudy with a Chance for Cooperation: Cloud-based Library Management
Rob Ross – OCLC
Jason Griffey – Tennessee Chattanooga
Gina Perchichini – Idaho Commission for Libraries
Michael Dula
- Pepperdine
Kyle Banerjee – Orbis Cascade Alliance

There were a few vendor presentations on ILS and on web scale discovery. Ex Libris presented on URM. There were presentations on Summon and EBSCO web discovery service. I attended this OCLC presentation. There were a handful of presenters from early adopters of the OCLC Web Scale Management System (WMS). Feedback was very positive from these members.

All of the presenters stressed the cost benefit of this solution for their library. In particular, they all pointed out the benefits of shared data. In this model, there is no such thing as copy cataloging; it doesn't exist anymore. All presenters talked about the ability to repurpose staff to do more interesting work. Also, some of the presenters also indicated savings in server and software maintenance.
From Cobbled to Agile
Joan Smith – Emory University
Joan talked about IT reorganization at Emory. They reorganized into functional groups, such as a core team (ILS), strategy team (project managers/strategists), and software team (developers). They have adopted an agile approach to project management. Joan discussed the tools and the effect that agile has had on their IT group.
Some of the tools they are using: TRAC, ActiTime, and Dwrangler. Their tools are all integrated, some home-grown, but together, these tools allow them to efficiently manage projects, their documentation sites, and their meetings.
Their Agile methodologies, especially their scrums and their iterations, have allowed them to more accurately estimate projects, and more confidently complete projects in defined timeframes.
[Note that the above is only a selection of the presentations at LITA. Many of the presentations are available on ALAConnect. The ALAConnect interface is really challenging IMHO. This link should get you to a number of the presentations.]